Public libraries are gems to be sure, but the Chehalis Timberland Library is a local treasure. The site itself is at once historical, beautiful, and convenient, to say nothing of the incredible resources found within. Before you stop in, here are a few things to check out – in addition to books – during your visit to the Chehalis Library.
The Courtyard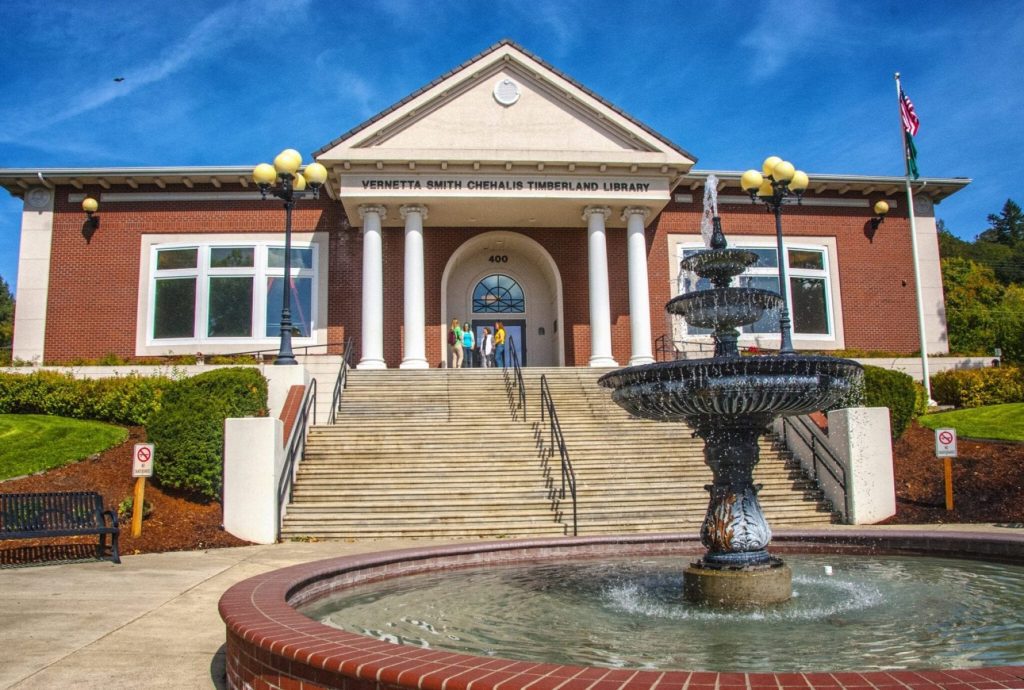 More than a gorgeous photo backdrop, the terrace below the library is an excellent meeting spot or starting point for an adventure downtown. You'll find numerous benches, a rose garden on the northwest corner, and a large map of interest points in Chehalis. This picturesque site is also a stop on the Historic Chehalis Downtown Walking Tour (obtain a free copy of the tour pamphlet at the downtown kiosk to learn more). Make sure to pop into the library before finishing out your tour, though, because there is much more to see inside.
 A Warm Welcome for All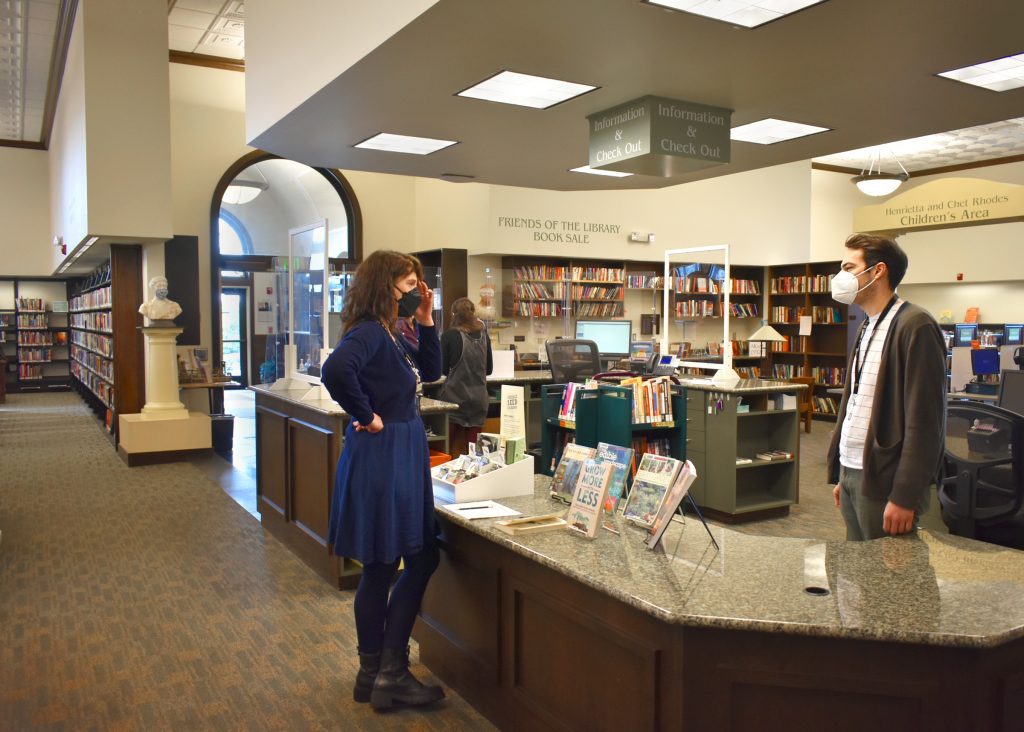 Whether you arrive via the bus stop, one of the access ramps, the drive-thru window, or the sweeping marble staircase, you can't help but feel welcome here. Accessibility was a priority when the library was rebuilt in 2008. Inside this expansive, fully ADA-compliant facility, there are resources and settings for seemingly any purpose. The Chehalis Library offers space for business meetings, homework help, fun family activities, relaxing reads by the electric fireplace… and more.  
Job and Career Resources
For example, free library membership grants access to online professional development courses, career information, trade journals, and vast databases of information that are otherwise costly to access. Also, did you know the Timberland Regional Library partners with WorkSource to help patrons find jobs? There are tools here for every step of your job hunt or career journey. They even provide high-quality black and white AND color printing. Members receive up to $44 in monthly credits for printing, copying, scanning, or faxing. In a pinch, you can even send your print job to the library's printer and pick it up at their drive-up window (our state's first)! The library isn't all work, though. Chehalis Library Manager Muriel Wheatley urges visitors to slow down and enjoy themselves, too. "We have forms of escape – ways to give your brain a break." Families, especially, can find fun and respite here.
Fun for Children and Families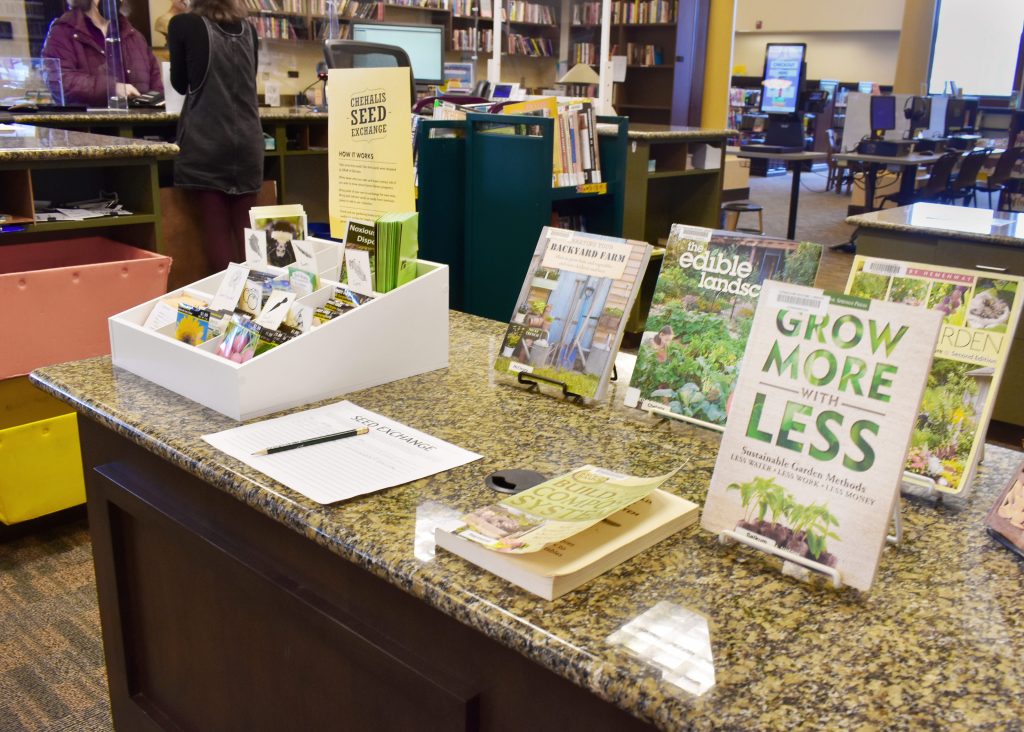 Kids are welcome and encouraged to explore what the Chehalis library has to offer them, from the inviting play area to college test prep resources. Here, children can discover and experience literacy in the mode that suits them: through live, animated StoryTimes and Bilingual Hours, audiobooks made just for them, hands-on STEM projects to do at home, and even secure learning tablets that work regardless of internet access. It's important to Wheatley that families feel comfortable bringing their children to the library and embracing the excitement of learning. She and her staff strive to "create a space that says, 'Welcome, come in and explore!'" It's a welcome that extends far beyond the library walls, with StoryTrails in local parks, Take & Make kits and more in-person appearances in the works. The community bonds are strong here.
Community Connection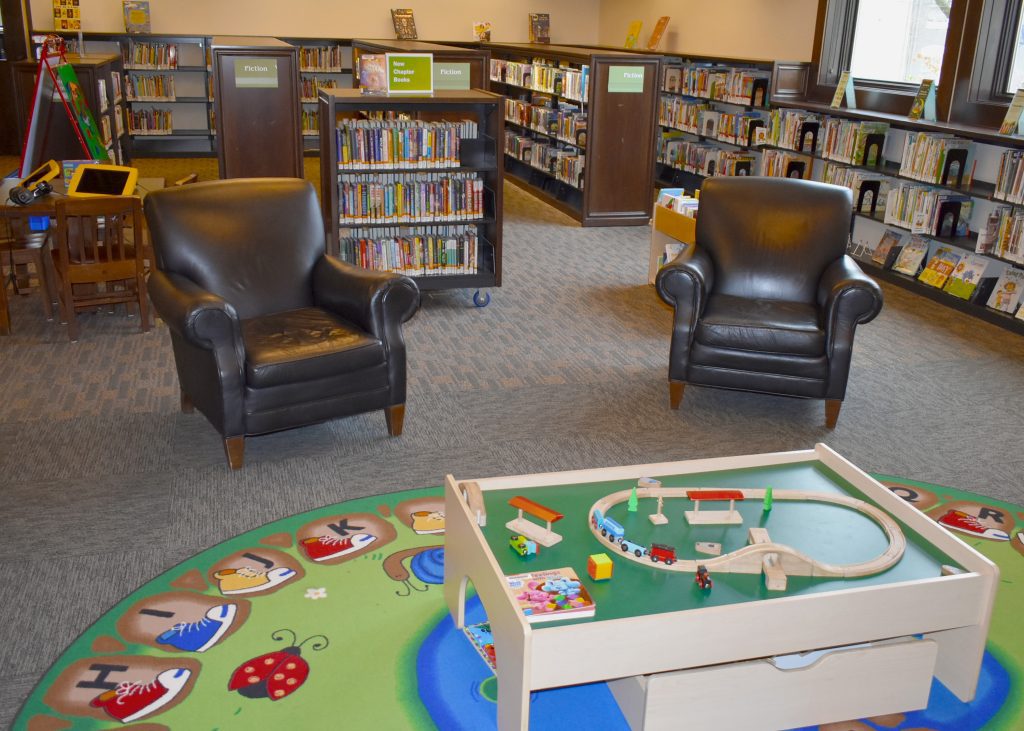 The Chehalis Library's connection to its community is not only built into the foundation, but also integral to library operations. True to Carnegie's generous spirit from conception to completion, the updated Chehalis Timberland Library branch came together with the help of over 500 donors and a swath of volunteers. The story is immortalized on a series of plaques just inside the doors, but the sense of small-town solidarity doesn't end there. "One of my favorite parts about this library is the community space," says Wheatley. With two private study rooms, a meeting room, multiple seating areas, and a spacious conference room, there is plenty of space to convene here. Our Timberland Regional Library branch has been known to host Master Gardeners, local historians, artists, and more. The staff continuously seeks to bring unique services and connection points to its patrons, including information about local resources and happenings. One of their latest projects is a collaborative seed library, meant to make the growing of food more accessible to aspiring gardeners. The seed library and instructions can be found at the circulation desk.
Truly, there is nobody who can't find useful tools, information, or enjoyment in our historic Chehalis Library. What will you discover inside the library? The possibilities are quite literally countless! To learn more about your local Timberland Regional Library or obtain a free membership, visit www.trl.org or follow them on Facebook​.
---
Written by Chelsea Barr