A historic Chehalis store, Bartels Clothing, is celebrating a 100-year legacy of service in southwest Washington.
Founded by Howard Bartel in 1922 (as far as the earliest records show), the business has outlasted six wars, seen countless natural disasters, endured two major recessions, and now, survived a pandemic. The Calders, who currently own and operate Bartels, admitted to feeling uncertain about whether they would survive this latest curveball. But when retail doors finally opened after the widespread shutdowns, this historic storefront was saved by the ages-old love of its community.
How does a small clothing store achieve this level of resilience, even in a tightly-knit community, when so many others have fallen to the circumstances of time? The answer is plain in every story – and there are untold numbers of them – their patrons were simply returning an unending list of kindnesses.
"I know for a fact that people went out of their way to support us," says Boyd Calder, who co-owns the store with his son, Brady. Over 200 tuxedo rentals came in after re-opening, despite practically all formal events being canceled or greatly modified.
It's impossible not to be touched by this demonstration of support, owing to its astounding impact and the emotions that visibly cross Boyd's and his wife Terri's faces as they recount their service experiences.
Customers don't come into the store for a simple cash-product exchange. Since its inception, Bartels has sold exceptional, personally tailored customer service. They have saved countless wedding parties, prepared missionaries, styled nervous prom-goers, and held the hands and hems of grieving family members. These services are so interwoven into the lives of locals, they are truly part of the fabric of Chehalis.
"Our ability to personally help people is what, I believe, sets us apart," says Terri. In fact, the Calders unanimously cite a love of service as their reason for taking on the business.
Highly personalized service is a long-standing tradition at Bartels. Jan Jamerson, daughter of former owner R. A. "Sy" Sylvester recalls the compassion of her father, who co-owned the store with Bill Fahey from 1959 to 1975.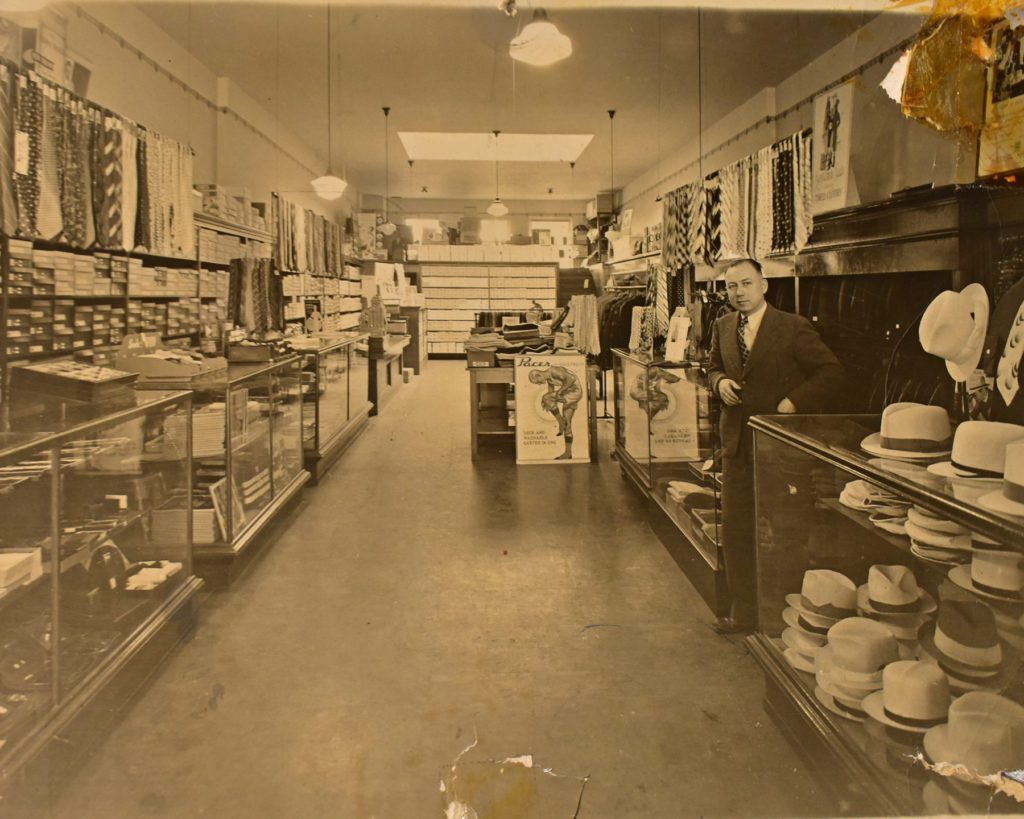 "Dad was good to his employees and to his customers," says Jamerson, but it's an understatement. She remembers Sylvester running home to fetch his own sport coat, loaning it to customers who didn't have one.
The loyalty and connections between customers, family, and employees are common threads in Bartel's history. Jamerson worked at the store alongside her dad and brother for nearly a decade.   Boyd Calder bought his own first suit from Joe Mount, a previous owner, in 1980. Countless others have come to Bartels for their own rites of passage.
"The funnest part for me is hearing the stories," says Calder. "Almost everyone has a Bartels story."
Terri, who coordinates the alterations, tells of an extra-memorable wedding party she assisted. Having found a great deal online, an entire party of groomsmen purchased suits online only to discover upon arrival that they all desperately needed alterations. One groomsman needed a second alteration after he and the Bartels team realized that one sleeve was manufactured four inches longer than the other.
As life goes on, so do the stories. Framed, historical photos decorate the store, and Boyd still maintains a time-worn binder full of old newspaper clippings, photographs, and other documentation of Bartel's history. Displayed behind the counter is a collection of thank-you cards from locals who came to them in both the happiest and most heart-breaking moments of their lives. The messages inside are a tear-jerking testament to the timelessness and importance of personal service.
In today's age of one-size-fits-all service and cheap, mass-produced fashion, Bartels Clothing continues to offer something rare. Here, both locals and "out-of-towners" can find curated, high-quality apparel, a perfect fit, and truly compassionate service that is still very much in style… even a century later. It's an accomplishment well-deserving of celebration.
The store will be celebrating its centennial during Chehalis Fest, from July 26 to July 30, and beyond. Commemorative lapel pins and other memorabilia will be available in limited quantity to customers, courtesy of Experience Chehalis. Visitors are invited to enjoy refreshments and history displays. Former employees with stories to share about Bartels are encouraged to add them to the binder at the store. Don't forget to browse their timeless selection of men's and women's fashion. Bartels sells name-brand casual, formal, and outdoor apparel. They also offer tailoring, alterations, and customizable letterman jackets. Store hours are Monday through Friday, 11am to 5pm and Saturday 11am to 3pm.
Special thanks to Jan Jamerson and the Lewis County Historical Museum, as well as the Calder family, for their time, research, and generosity of spirit.
---
---
Written by Chelsea Barr