Summer is on the horizon, rains are subsiding, and City of Chehalis crews are working feverishly to prepare Chehalis parks for families and visitors. As nature lovers look for things to do and places to visit in the summer, parks often top the list. Chehalis residents are fortunate to have eight parks right within their city limits, each offering many forms of fun!
Chehalis Recreation Park and Penny Playground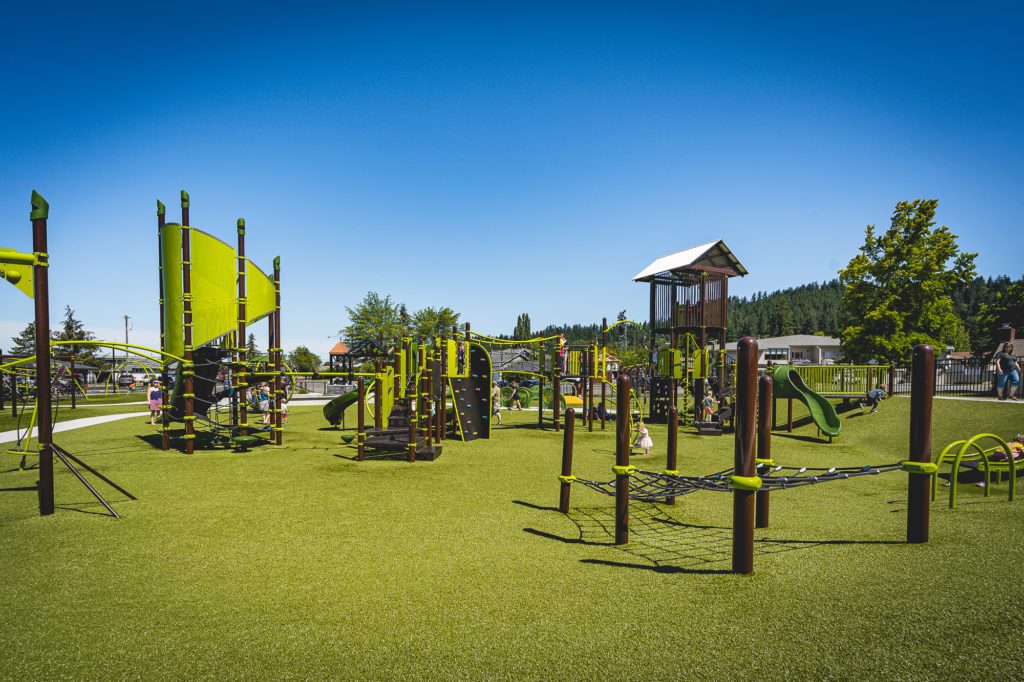 Perhaps the most well-known park in Chehalis, "Rec" Park is a hotspot for a reason. This lovingly maintained park boasts four renovated ball fields, shaded picnic areas, two community buildings, the Gail and Carolyn Shaw Aquatic Center (opening to the public on June 17th), and the re-built, fully ADA-accessible Penny Playground. Chehalis Recreation Park's rich history of growth and community involvement is memorialized throughout the park, giving locals another reason to cherish it.
Henderson Park
There is a quaint, grassy field just two blocks from Penny Playground with its own unique history. Henderson Park was given to the City of Chehalis in 1962 by the Department of Natural Resources, which previously occupied the on-site office. Today, the site houses the Community Services Department and an Activity Building. Dog-walkers or families out for strolls can rest on one of the benches or share a picnic in shaded portions of the field. Come back in December to watch the Public Works pump station transform into a magical gingerbread house!
Stan Hedwall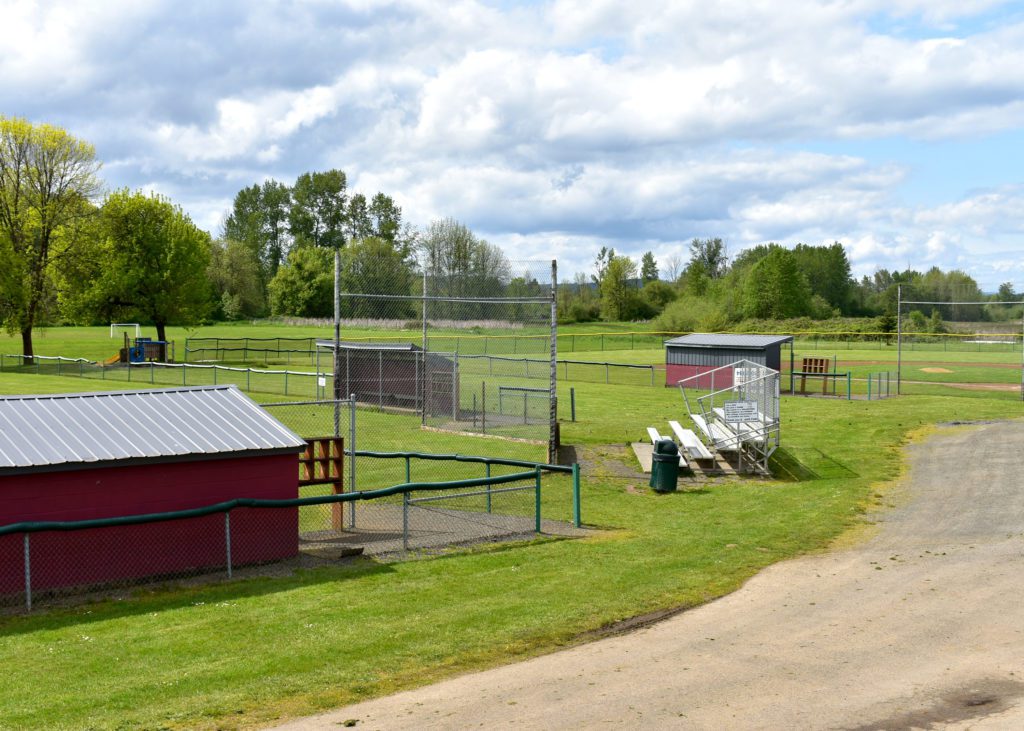 Stan Hedwall is the largest park in Chehalis. Located on the banks of the Newaukum River, the flood-prone park is closed during Chehalis's wettest months. In the spring, however, this 200-acre recreational destination is flooded by athletes, hikers, campers, river rafters, and more. One side of the park features woodland trails (currently closed for restoration), river access, and a 29-space RV park. In April, the organic waste disposal site opens on weekends. The rest of the park consists of baseball and soccer fields, pavilions, meadows, covered picnic shelters, and two small playgrounds. A horseshoe pit and volleyball net wait between the large picnic shelter and RV park. Stan Hedwall hosts countless recreational programs, leagues, and even local music festivals. This Chehalis park is worth visiting regularly to experience all its rec options and events.
Westside Park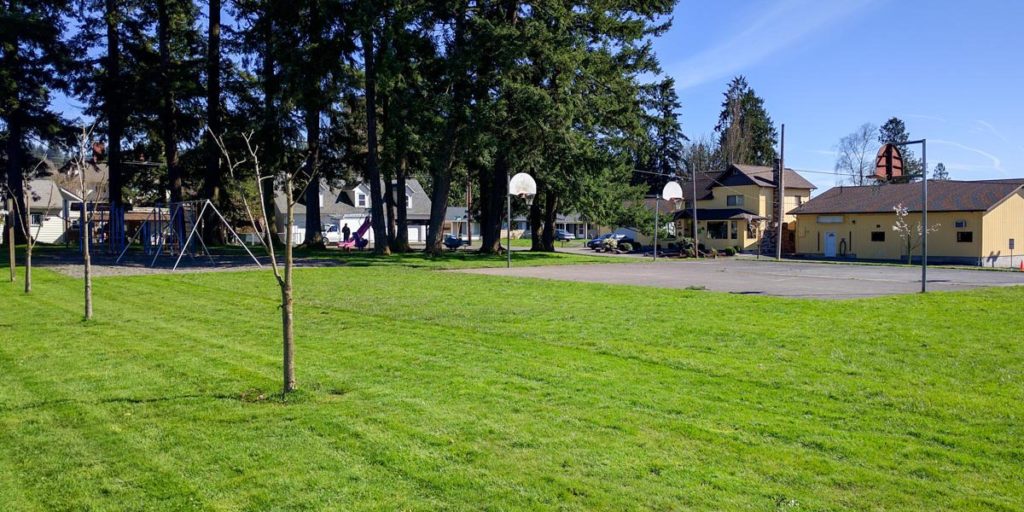 In the Historic Westside District of Chehalis, there's a shady park conveniently located within walking distance from downtown. Westside Park offers a playground, two basketball courts, picnic tables, and a small grassy field to soak up the sunshine. The park is next in line for an update following Penny Playground's mass renovation and Friends of the Westside Park are actively working on it.
Millett Field
This three-acre park was donated by the Millett Family in 1898. Its former baseball field hosted the Chehalis semi-pro team for almost 40 years, then the Babe Ruth program for 22. While floods have sadly reclaimed the field and damaged a piece of playground equipment, visitors can still use the basketball court and playground when they are dry and restored.
Dobson-McFadden Trail
Venture into the residential hillside above downtown Chehalis to find the local Scouts Lodge and the Dobson-McFadden trail. This 1.3-mile out-and-back trail slopes up gently to offer views of downtown Chehalis and the Coal Creek valley, plus opportunities for berry picking or foraging.
Willapa Hills Trail
Experience Lewis County's history, diverse ecosystems, and scenery all at once when you walk (or bike) the Willapa Hills Trail! This state-managed trail has multiple access points in and near Chehalis. Paved for the first five miles, the walkway passes through woodlands, farms, wetlands, and over waterways. Visitors will cross paths with the historic Milwaukee Road track, on which the Chehalis-Centralia Railroad and Museum operates. Feeling ambitious? There are another 51 miles of trail to enjoy between Adna and Highway 101 but surface conditions vary and the final 29 miles remain unfinished. Read more about this trail's fascinating history on the Washington State Parks and Recreation website.
Lintott-Alexander Park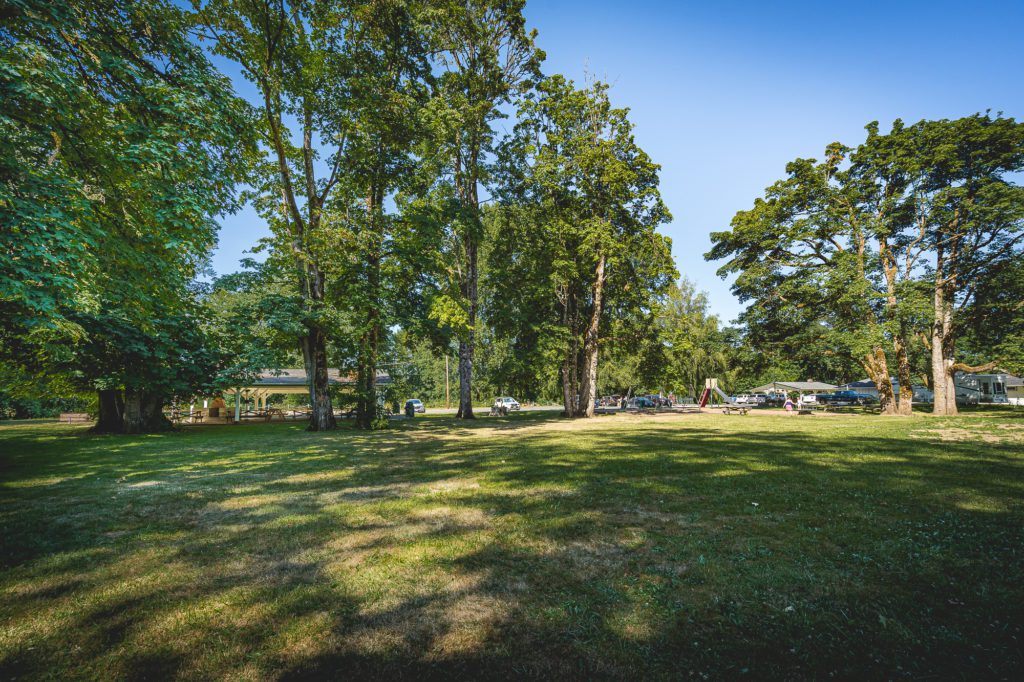 Lintott-Alexander Park is located just outside Chehalis along a U-bend of the west Chehalis Riverbank. This quiet locale was recently restored by the Chehalis Foundation and its secluded amenities are especially popular in the summer. Enjoy large meadows, a small playground, two large picnic shelters, a handful of walking trails around the grassy fields, and views of the river.
How to Visit
Ready to plan your visit to our Chehalis Parks? You can find an overview of parks, events, rentals, and programs on the City of Chehalis website. Look for nearby food, lodging, and shopping here on Experience Chehalis. Given Washington's reputation for unpredictable weather, it's always wise to check forecasts the day before when possible. Take precautions if you plan to get in the water – public waterways in Chehalis parks do not have posted lifeguards and rain may destabilize riverbanks.  Lastly, remember to pick up and properly dispose of all waste so others can enjoy the parks, too!
---
Written by Chelsea Barr